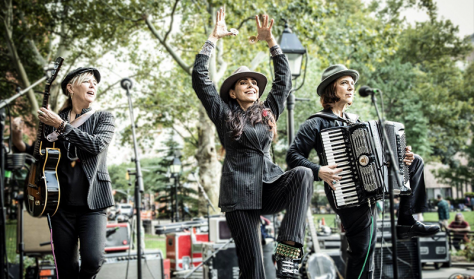 2
Vicki Kristina Barcelona
CANCELLED! Please contact Cathedral Arts Live for a refund request at: http://cathedralartslive.org/contact/
Power trio of musical veterans, rearranges songs of Tom Waits with inventive 3-part harmonies and virtuoso instrumentation.
"My advice is to delay your heart break and see them now "— Penny Arcade
Vicki Kristina Barcelona is Rachelle Garniez, Amanda Homi and Terry Radigan, a power trio of music veterans dedicated to re-imagining the songs of Tom Waits via inventive three-part harmonies and a treasure trove of instruments including banjos, bottles, squeezebox and zills.  They create a world of sound at once powerful, playful and poignant.  
Seasoned singers and songwriters, each a hybrid story-teller and multi-instrumentalist in her own right, join forces to salute the tragicomic lyrical genius of the Waits songbook. Picture the Triplets of Belleville disguised as Depression Era hobos riding the rails across America stopping to play dance parties and funerals along the road to nowhere. 
Three distinct styles form a captivating original mix, greater than the sum of its' parts, never failing to amaze and delight audiences of all stripes. 
 Opener: Apollo Sonders